Active System Subwoofer
1x 12" long excursion loudspeaker 400 W / 800 W

frequency range from 40 Hz

3-way Class D power amplifier (3x 500 W)

High-End-DSP with FIR filter

ultra compact dimensions

installation version without handles / M20 thread available
The
hd P12stereo
is a compact, easy to carry and powerful active system subwoofer. The specially developed 12″ high excursion chassis with 3″ voice coil, single rubber surround and ferrite magnet system guarantees optimal heat dissipation with minimal power compression through ventilation at the pole core. The lower heat development also means increased reliability and reduced thermal stress on the voice coil. Excellent dynamics and dry bass reproduction at incredible pressure is the result. The entire electronics is integrated in the housing. All relevant inputs and outputs are available on a clearly arranged connection panel on the back.
In the hd ML16/P12stereo system it literally acts as a base. The hd P12stereo is the optimally tuned woofer for the hd M-Series and ML-Series. The transmission range is extended downwards, and the headroom and dynamics in the bass range of the system are noticeably increased in a very efficient manner and, at the same time, the column loudspeakers are relieved.
On top of the hd P12stereo is an M20 threaded insert for a distance pole as well as two generous transport handles for easy handling. The housing is made of multiplex birch wood and coated with a shock- and scratch-resistant textured paint. The front of the speaker is protected by a metal grille covered with acoustic foam. Four abrasion-resistant rubber feet on the underside ensure a secure footing.
The hd MultiDSP open architecture platform guarantees perfect control over all relevant system components using the easy-to-use, windows based
hd LevelZ
remote software. This new DSP platform now enables all the processing and control functions of large sound systems in easy-to-use plug and play device.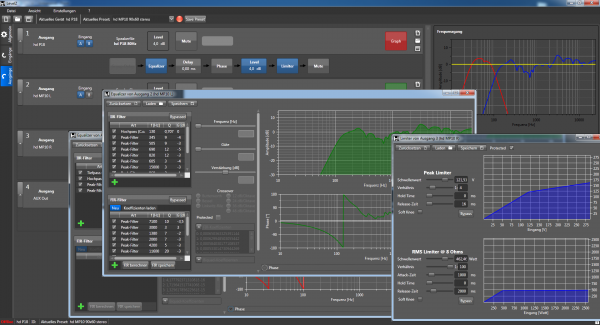 The input section includes a routing matrix, a function generator (sine and noise generator), and 16 input channel IIR filters each, which can be configured as variable highpass / lowpass / allpass / peak / shelf / notch filters, and a 384 taps FIR filter. There are 16 IIR filters per output channel that can be configured as variable highpass / lowpass / allpass / peak / shelf / notch filters, 384 taps FIR filter, 100 ms delay, 180° phase inversion, peak limiter, RMS limiter, gain and mute available.
There are 20 factory presets for all Harmonic Design speaker system configurations stored for direct recall to the device so that it can always be reset to a defined default state of the system. This guarantees highest reliability of the connected speakers and ensures a very dynamic and linear sound. For user-specific settings, another 20 freely configurable user presets are available to save and manage individual configurations. With the software, the individual requirements can be discussed in more detail and unlimited user presets and configurations can be managed.
Model
hd P12stereo
Principle
bass reflex system
Transducers
1x 12″ high excursion chassis
Crossover
active up to max. 180 Hz
Power handling capacity (RMS/Peak)
400 W / 800 W
Frequency range
40 Hz – 180 Hz
Sensitivity (1 W / 1 m)
98 dB
SPLmax (Half-Space)
133 dB
Power @ 4 Ohms
3x 500 W
DSP
hd MultiDSP 2In 3Out with FIR / IIR filter
multistage limiter architecture
hd LevelZ remote software
LED meter and USB
Connection
2x XLR input
1x NL4 output TOP L (2-pole)
1x NL4 output TOP R & SUB (4-pole)
1x IEC mains input
Dimensions (W x H x D)
400 x 430 x 420 mm
Weight
19 kg
Enclosure
15 mm multiplex birch wood
textured paint black
Acoustic foam
ergonomic transport handles
M20 thread insert
Options
Transport Protection Cover
installation version
RAL color
mobiler Einsatz

public buildings, conference and media technology