hd Collaboration-Solution
All-In-One Solution
Plug & Play complete audio solutions with digital mixer functions

Microphone inputs + media sound

4 microphone presets + sound presets each

integrated subwoofer array

integrated LinearPhase DSP amplifier

hi-fi sound

tailor-made production on screen dimensions up to 3m without long delivery times
Finally understand each other
Sharing thoughts, visions and feelings through communication is an essential part of human interaction. In the professional environment, this is happening more and more with the help of virtual media, e.g. Video conferences and online meetings – without personal contact.
Important aspects such as the dynamics, voice color, articulation, expression and emotions of the counterpart go far beyond pure speech intelligibility. For the experience of an authentic meeting, the full information content of language must not remain on the transmission path. Otherwise the concentration and productivity of the participants will suffer. Misunderstandings are inevitable.
The uncompromising use of the latest pro audio technology meets the highest audiophile requirements and combines complex multimedia components in one device that anyone can operate.
With the hd AudioBar and VideoBaryou can create a pleasant collaboration environment for a respectful and appreciative encounter between colleagues and business partners without any technical effort.
Pro-Audio-DNA
At Harmonic Design, no compromises are made when it comes to sound reproduction.
As an owner-managed, Swabian company, we live our passion for high-quality loudspeaker and amplifier technology every day and work with great attention to detail on innovative solutions for sound reinforcement tasks, so that our Pro-Audio DNA is in every product. We have remained true to ourselves for 40 years.
Premium audio for speeches and lectures
Our presentation solutions are designed for a wide variety of requirements and room scenarios. They also offer a high degree of flexibility and simplicity. After all, you should be able to concentrate on the essentials: on what you want to say. As our solutions are optimized for speech applications, they offer the highest level of speech intelligibility. And you can rely on the reliability of our components even in continuous use.
Stereo speakers with wide radiation and an integrated subwoofer array
Our dual-concentric loudspeakers ensure that you can understand every word and enjoy the full spectrum of sound. The symmetrical radiation of these special loudspeakers makes the positioning of the hd AudioBar and hd VideoBar unproblematic and can be installed under or above the presentation area and still reach every listener.
The integrated subwoofer array gives your videos goose bumps in the lowest octave and delivers a crisp, round bass with media sound recordings without booming. Pure concert feeling! But do not worry: thanks to the different signal processing for media sound and speech, your video conferences and presentations remain crystal clear with a well-balanced tone range.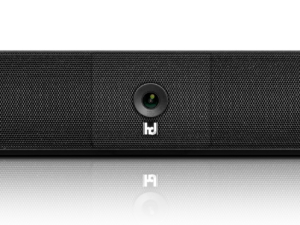 That you are always the focus of the discussion.
The hd VideoBar enables the simple integration of a video camera. The award-winning Huddly IQ offers an unparalleled video meeting experience with 150° wide-angle optics, groundbreaking AI functions and a beamforming microphone array of 5 microphones. Position the camera, connect it to the PC – done!
Reliable and Audiophile.
A multi-channel digital signal processor based on our hd ProDSP platform is the heart of the system. It manages all inputs and outputs, uses the most modern algorithms for sound optimization and is equipped with highly efficient power amplifiers at the same time. The audio signal – as soon as it has been processed and digitized – is passed on to the intelligent amplifier section in the highest audiophile quality without loss.
As with all Harmonic Design speaker systems, we use FIR filter technology to achieve a perfect sound experience. And when it gets louder, intelligent protective circuits ensure maximum operational safety – 24/7!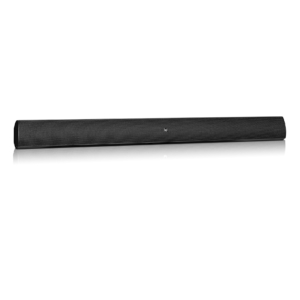 All-in-one plug & play audio solution

Digital mixer functions

Microphone inputs, media sound, BYOD (optional)

6 kg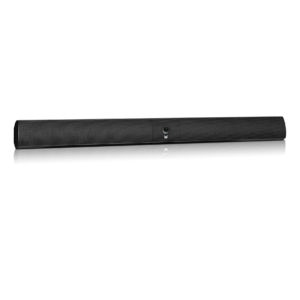 Plug & play audio/video complete solution

Digital mixer functions

Microphone inputs, media sound, BYOD (optional)

Camera integration possible