All-In-One Solution
Plug & Play audio/video complete solution with digital mixer functions

Camera integration possible

Microphone inputs + media sound + BYOD

4 microphone presets + sound presets each

integrated subwoofer

integrated DSP amplifier

hi-fi sound

suitable for 55″ and 65″ TV

tailor-made production on screen dimensions without long delivery times
The hd VideoBar is an audiophile all-in-one sound solution with an intelligent camera for video conferences in conference rooms, training rooms and multi-media applications with a configurable audio matrix with digital mixer functions and presenter function. The inconspicuously integrated smart camera of the Huddly IQ type impresses with the latest features for high-quality video conferences. The optionally available camera can be easily and quickly integrated via a recess on the back and a pure soundbar becomes a state-of-the-art, multifunctional video conference system of the highest quality. The tried and tested FIR filter technology guarantees excellent speech intelligibility even during video conferences or presentations. The FIR filter technology enables frequency and phase independent sound optimization for undistorted reproduction. The integrated subwoofer array delivers a crisp, round bass without booming.
The input stage consists of a stereo line-in with auto-detect function for TV or media sound and two microphone line-in for connecting wireless microphones, headsets, clip-on microphones or any line signals. A volume control for both microphone systems is located on the recessed connection panel. Four sound presets and four microphone presets, suitable for the most common microphone types and models, can be called up via buttons on the connection panel. The integrated microphones of the Huddly camera with beamforming technology are used for video conferences. A dynamics processor with expander, compressor and gate function for the microphone channels and a freely configurable EQ section for room and microphone equalization allow the best adjustment of the system without additional hardware. Bring your own device prepared.
The hd VideoBar is the optimal solution in the course of the digitization of the working world. The state-of-the-art, reliable and easy-to-use all-in-one complete solution hd VideoBar can be used cost-effectively for the audio-technical equipment of huddle rooms, media steles, conference rooms, museums, educational institutions or hotel suites and external DSPs and matrix systems are superfluous.
With the help of mounting brackets, the hd VideoBar can easily be attached to the VESA brackets on the screen. Alternatively, all common wall brackets can be attached to the continuous T-slot on the back. Thanks to flexible manufacturing processes, the hd VideoBar has been able to be precisely adapted to the screen dimensions and surroundings for years – without long delivery times.
A recessed connection field with three 3.5mm jack input sockets with auto-detect function, 4-pin Power-Din mains socket for external 24V power supply, pairing button and two preset buttons are located on the back of the housing. The camera is connected to a notebook or PC using a USB cable.
Finally understand each other
Sharing thoughts, visions and feelings through communication is an essential part of human interaction. In the professional environment, this is happening more and more with the help of virtual media, e.g. video conferences and online meetings – without personal contact.
Important aspects such as the dynamics, voice color, articulation, expression and emotions of the counterpart go far beyond pure speech intelligibility. For the experience of an authentic meeting, the full information content of language must not remain on the transmission path. Otherwise the concentration and productivity of the participants will suffer. Misunderstandings are inevitable.
The uncompromising use of the latest pro audio technology meets the highest audiophile requirements and combines complex multimedia components in one device that anyone can operate.
With hd VideoBar and VideoBar, you can create a pleasant collaboration environment for a respectful and appreciative encounter between colleagues and business partners without any technical effort.
Pro-Audio-DNA
At Harmonic Design, no compromises are made when it comes to sound reproduction.
As an owner-managed, Swabian company, we live our passion for high-quality loudspeaker and amplifier technology every day and work with great attention to detail on innovative solutions for sound reinforcement tasks, so that our Pro-Audio DNA is in every product. We have remained true to ourselves for 40 years.
Premium audio for speeches and lectures
Our presentation solutions are designed for a wide variety of requirements and room scenarios. They also offer a high degree of flexibility and simplicity. After all, you should be able to concentrate on the essentials: on what you want to say. As our solutions are optimized for speech applications, they offer the highest level of speech intelligibility. And you can rely on the reliability of our components even in continuous use.
Stereo speakers with wide radiation and an integrated subwoofer array
Our dual-concentric loudspeakers ensure that you can understand every word and enjoy the full spectrum of sound. The symmetrical radiation of these special loudspeakers makes the positioning of the hd AudioBar and hd VideoBar unproblematic and can be installed under or above the presentation area and still reach every listener.
The integrated subwoofer array gives your videos goose bumps in the lowest octave and delivers a crisp, round bass with media sound recordings without booming. Pure concert feeling! But do not worry: thanks to the different signal processing for media sound and speech, your video conferences and presentations remain crystal clear with a well-balanced tone range.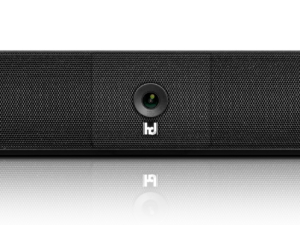 That you are always the focus of the discussion.
The hd VideoBar enables the simple integration of a video camera. The award-winning Huddly IQ offers an unparalleled video meeting experience with 150° wide-angle optics, groundbreaking AI functions and a beamforming microphone array of 5 microphones. Position the camera, connect it to the PC – done!
Reliable and Audiophile.
A multi-channel digital signal processor based on our hd ProDSP platform is the heart of the system. It manages all inputs and outputs, uses the most modern algorithms for sound optimization and is equipped with highly efficient power amplifiers at the same time. As soon as it has been processed and digitized, the audio signal is forwarded to the intelligent amplifier section in the highest audiophile quality without any loss.
As with all Harmonic Design speaker systems, we use FIR filter technology to achieve a perfect sound experience. And when it gets louder, intelligent protective circuits ensure maximum operational safety – 24/7!
Model
hd VideoBar
Principle
active 2.1 multi-media system
Transducers
L/R: 2x 3,5" + 1" DualConcentric
Subwoofer: 3x 3,5" high-excursion woofer + 2x 3,5" ultra-high-excursion passive radiators
Camera integration
optional Huddly IQ with microphone array
other models on request
Amplifier power
300 W
Frequency range
45 Hz – 22 kHz
SPLmax
111 dB
Nominal dispersion angle
horizontal 80° x vertical 80°
DSP
hd ProDSP 4+2In 4Out with FIR-/IIR-Filter
RoomEQ, MicEQ, Compressor, Gate, Expander,
Matrix, 4 sound presets, 4 Mic presets, remote
Connection
1x Stereo 3,5mm-Jack line input
2x 3,5mm-jack input Mic (sym.)
1x Mini-USB
1x 4-pole power socket for 24V power supply
Controls
volume poti
2x preset buttons
pairing button
Dimensions (W x H x D)
suitable for 55″ TV: 108 x 1235 x 104 mm
suitable for 65″ TV: 108 x 1445 x 104 mm
Weight
6 kg
Enclosure
Powder-coated aluminium profile black
grille
Acoustic foam
recessed connection plate
Options
Transport Protection Cover
wall mount
mounting adapter
RAL color
special length
Media steles

Public buildings

Educational institutions

Huddle-Rooms

Museums

Conference rooms

Training rooms

Hotel