The
hd Infra212
is a high-performance subwoofer with a hybrid enclosure design for the reproduction of extended low frequencies below 34 Hz. Compact dimensions and exceptional power reserves combined with minimal distortion make the hd Infra212 a modern yet flexible tool for large-scale touring and installation applications requiring extreme low- end, high SPL and great control over dispersion. The optimally tuned, vented, hybrid horn-loaded cabinet houses two special long-excursion 12" cone drivers with 4" voice coils.
A large, air flow-optimized center reflex port allows excellent air excitation with minimal turbulence and distortion. The transmission range from 34 Hz to 120 Hz makes the Infra212 the perfect bass extension for all Harmonic Design speakers. Thanks to its long throw, high efficiency and passive directivity pattern, the hd Infra212 can be optimally integrated into LineArray applications with HybridLineSource loudspeakers hd HLS20 and hd HLS24.
The cardioid radiation behavior is already generated passively with two or three stacked hd Infra212 up to 85 Hz, or 65 Hz in forward radiating operation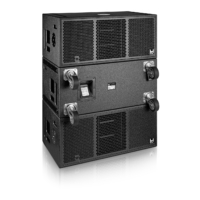 An M20 threaded insert on the top and side of the enclosue allows a distance rod to be inserted. Protective skids made of high-strength PVC on two sides and corresponding recesses on the top of the cabinet ensure a secure footing. The NL4 Speakon jacks, mounted on the back of the recessed connector panel, are used to connect and route the input signal. A Speakon socket in the protective front grille allows cardioid configurations without special interchangeable cables.
Model
hd Infra212
Principle
Bass reflex system/horn-loaded
Transducers
2x 12″ long excursion chassis
4" voice coil, vented at pole piece and spider
Crossover
variable, depending on the preset
Power handling capacity (RMS/Peak)
2000 W / 8000 W
Frequency range
34 Hz – 160 Hz
Sensitivity (1 W / 1 m)
Groundplane
102 dB
SPLmax (Half-Space)
143 dB
Nominal impedance
4 Ohms
Connection
2x Speakon NL4
1x Speakon NL4 turning socket
Dimensions (W x H x D)
846 x 366 x 480 mm
Weight
54 kg
Enclosure
robust multiplex housing
Polyurethane coating black
recessed connection panel with 2x NL4 rear
turning socket NL4 front
2x M20 threads
2x transport handles
Steel grille with acoustic foam inside
Options
Transport Protection Cover
hd SlientWheels Set
weather protection
RAL color
live music, DJ, touring

Public buildings